Products
Ready-mixed concrete comes in five varieties, depending on your required compression strength :

Retarder ready
-mixed concrete
High strength ready
-mixed concrete
Water proof ready
-mixed concrete

Pumpable concrete

Mortar



Quality
Our company prioritizes high quality materials so as to provide the best products. Quality standards are maintained using compressive strength of cylindrical concrete testing method TISI 213-2552, which includes :
• Portland cement type I manufactured in accordance with TISI 15 vol. 1-2555, which corresponds with ASTM C 150 Type 1
• Stone and sand aggregates following TISI 566-2528
• Concrete admixtures following TISI 733- or ASTM C494
Quality standards also include manufactured samples and field samples for compression testing under ASTM standards. Sample testing is evaluated using ACI standards and material checkups are always done, regardless of results.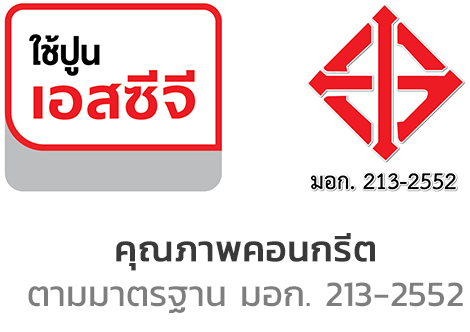 Services
• 24 hour delivery *Company conditions apply
• No delivery fee *Company conditions apply

With more than 20 years of experience and expert employees, we are confident in our ability to exceed customer expectations. To ensure quality service, we organize trainings for our product delivery team regarding roadside etiquette and service miles.
Ability to deliver products :
Our 36 concrete trucks are ready for the customer's needs in 5 locations, so the customer can receive their concrete in a timely manner. Our concrete trucks are always checked before delivery to minimize delay and defects.